THRIVE – The book
Channel Your Courage, Speak Your Truth, and SHINE in the Midst of Life's Challenges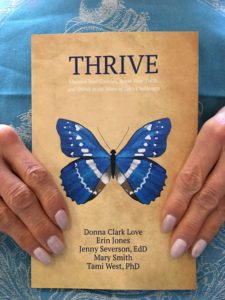 Are you ready to THRIVE by transforming your life challenges into a launching pad for joy?  A marvelous professional and personal life awaits you.  No other book out there will impact your life as this one will. Each chapter is filled with our personal stories of falling down and getting back up—of overcoming and soaring. We have made every effort throughout the book to be transparent about our own struggles. You will laugh, cry, shake your head in disbelief, be challenged and inspired, and, at times, drop your jaw in awe! Dig in . . . Your life is about to change!  

$19.95 + $2.95 Shipping
---
Bully Prevention Manual
Elementary and Secondary Educators and Parents By Donna Clark Love
Put downs, nasty rumors, cruel text messages, ostracizing others and verbal attacks exist in every school.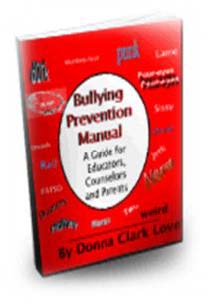 What school doesn't need an effective framework for dealing with the bully, the bullied and the bystander? But, where do you start? This manual has been highly recognized for the down to earth solutions for students, teachers, counselors, administrators, coaches and parents who choose to take action against bullying behavior. Complete with insightful information, sample policy and procedure, and essential tools, this manual is the basis for a comprehensive and very effective bully prevention/intervention process on any K-12 campus.
Quantities can be adjusted in the shopping cart after adding items.
$49.95 + $3.95 Shipping
---
The Complete Support Group Manual
For: K-12 Educators, Counselors, & Community Agencies
By Donna Clark Love
How to set-up/ facilitate powerful & effective support groups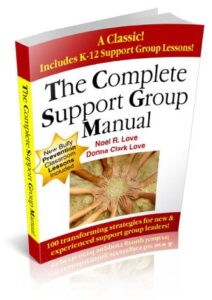 This practical manual is divided into three components (1) issues often at the center of a student's troubles, (2) logistical/technical info about how to facilitate support groups and (3) a set of elementary and secondary lessons designed for your use in groups. What issues do our kids encounter that impact grades, attitude, and behavior? BULLYING, violence, family trauma, peer-con͌icts, and academic pressures are just a few issues that trouble our kids. Why not provide a strong support structure to help our kids get through life's tougher moments? New & experienced support group leaders can utilize these numerous tools & strategies to help students boost self- esteem, identify defenses, stop bullying, and reduce isolation.
Student Support Groups – "A powerful vehicle of transformation for students."
Quantities can be adjusted in the shopping cart after adding items.
$49.95 + $3.95 Shipping